Wednesday, September 1, 2010
COQUITLAM – Year one of the hike-athon "Coquitlam Crunch Challenge: Embracing Diversity" and Coquitlam resident Alexander Bell pushed hard and met his goal of ten passes up and down the popular hiking trail! In total, he hiked over an elevation gain of 2500 metres ~ like walking from sea level up to the top of Blackcomb Mountain ~ nearly 50 km in total.
Bell teamed up with the Coquitlam Foundation to raise awareness and funds for initiatives that embrace diversity. Thanks to supporters, Alex met and doubled his modest first year fundraising goal. With pledge money still coming in, funds raised as of the evening of August 29th stood at $1000 and climbing. Monies raised will create an ongoing endowment fund, kept in perpetuity with the Coquitlam Foundation, so that annual earnings on the fund can be dispersed as grants to support community groups planning diversity initiatives.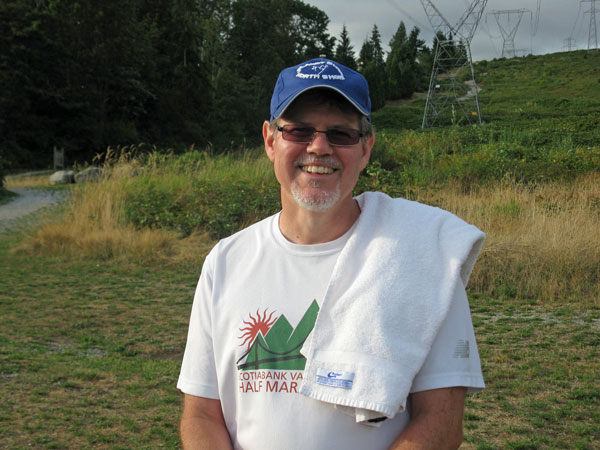 Bell is the Safe Harbour Coordinator for the Tri-Cities; a diversity awareness program for businesses and community agencies. "I wanted to do something that would support diversity awareness activities and raise awareness of the Safe Harbour Program. I also wanted to do something that would bring attention to the Coquitlam Foundation, a great resource we have in Coquitlam with even more potential as people learn about what it can do for our community" says Bell. The Safe Harbour program delivers "Respect for All" workshops to businesses and agencies. The program promotes equitable treatment for all, creating an immediate safe place, and supports employees and worksites to actively implement these commitments.
Bell's hike-athon officially began at 6:07 a.m. when he was joined in the first ascent by Coquitlam Foundation Treasurer Robert Tanaka and Coquitlam resident Carlos Fang. Alex laboured on throughout the day, joined on all but one ascent by friend and supporters. Most gratifying was the fact that people, including a 10 year old boy and a 15 year old girl (who donated a homemade pie from her home business Colony Farm Pies), read about the fundraiser in the paper and came out to join in! By 3:30 pm, Alex had made 8 passes, almost 40 km with 20 of it uphill and was visibly tired and sore, but he launched into his 9th ascent. At 4:40 pm, he returned once more to the bottom and turned immediately to go up one more time ~ Alex met his ultimate goal of 10 passes up and down the Crunch at 5:55 pm.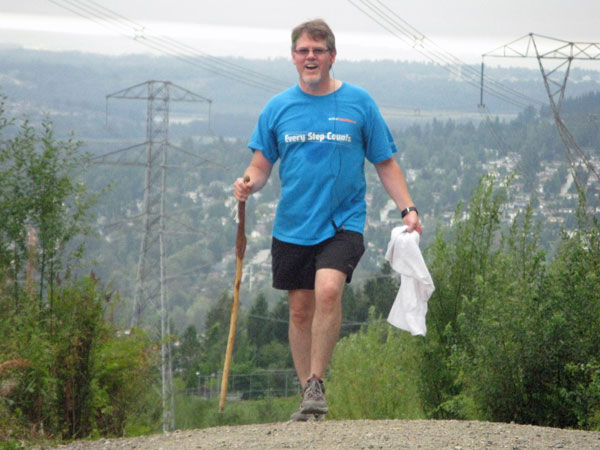 Pictures from the day are featured on the event website at www.coquitlamcrunch.com.
The 2011 event is now in the planning stages. For more information on date and details email info@coquitlamfoundation.com
The Coquitlam Foundation encourages and supports creative, targeted philanthropy that builds a vibrant, sustainable and healthy community. Donations can be made c/o P.O. Box 2, 1207 Pinetree Way, Coquitlam, B.C., Canada, V3B 7Y3, or through the Foundation's website. The Coquitlam Foundation is registered with Canada Revenue as a charitable organization, No. 890762347 RR0001.
Contacts: 
Tri-Cities Safe Harbour program coordinator Alexander Bell: 778-886-9273
Coquitlam Foundation executive director Laurel Lawson: 604.468.9598.