The Coquitlam Foundation is involved with and supports many, many events throughout the year. As part of our commitment to the community, we prefer to keep our own events to a minimum in order to support others.
There are a couple of events coming up that the Coquitlam Foundation is involved with:
Annual Awards Celebration – Thursday June 20th, 2019 – A SUCCESS!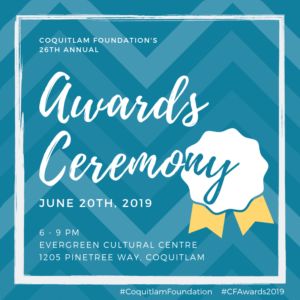 Every year, the public is invited to participate in our Awards Celebration. In December of each year, a call for applications goes out to the public and community groups in the Tri-Cities. A grants and bursary review committee convenes to evaluate applications. In late spring of each year, the Coquitlam Foundation holds an awards ceremony where $100,000+ in grant, bursary and scholarship cheques are awarded to the successful applicants. The Evergreen Cultural Centre has graciously hosted this event for many years.
The Foundation is pleased to announce that the 2019 Awards Ceremony was a success! Please click here for more information, photos, and a complete awards list from the night.
Coquitlam Crunch Diversity Challenge – Saturday September 7, 2019
While not an event organized by the Coquitlam Foundation, this event directly supports fund raising events for the Community Diversity Fund. This is the 10th anniversary of this event! To date, this event has raised over $20,000 for the Coquitlam Foundation's Community Diversity Fund which supports local diversity groups. (Diversity includes race, ethnicity, gender, age, religion, ability, and sexual orientation.) Email us at coquitlamcrunch@gmail.com for sponsorship information. If you want to challenge yourself and raise funds for a worthy cause go to the Coquitlam Crunch website. We'll see you at the Crunch!
Annual General Meeting – Thursday, September 12th, 2019
Usually the second Thursday of September, the AGM is a chance to share news on the success of the prior year and plans for the coming year.
To register click here: Annual General Meeting
National Philanthropy Day – November 15th each year
The Coquitlam Foundation is one of the Community Foundations of Canada and works with other foundations and charitable organizations to raise awareness of, and to celebrate, local philanthropy. Events for National Philanthropy Day vary year by year. Please watch our home page for information on upcoming events.
For more on current and past news and events, please see: