The Coquitlam Foundation is guided by a volunteer Board of twelve which always includes three statutory appointments: the Mayor of the City of Coquitlam, Chair of the board of trustees of School District #43 and Chair of the board of the Tri-Cities Chamber of Commerce. A part-time Executive Director manages the foundation on behalf of the Board of Directors along with a part-time administrative assistant and a part-time bookkeeper.
WE'RE LOOKING FOR BOARD MEMBERS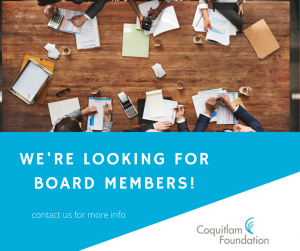 Are you a dedicated community-minded individual who is looking for an opportunity to make a difference? Are you a resident of Coquitlam? Then we want to hear from you! 
The Coquitlam Foundation is now accepting applications to join our devoted team as board directors and committee members. Ideal candidates will have a strong skillset and experience in one, or more, of the following areas:
event planning and execution;
financial management;
marketing & communications; and
fund development.
For the past 28 years the Coquitlam Foundation been committed to:
exercising philanthropic leadership in identifying and addressing community needs and opportunities;
attracting and managing charitable gifts of cash, bonds, shares, pledges, bequests, and life insurance as permanent endowments; and
investing these funds prudently for the benefit of community wellness, including:  for arts and culture, education, health, seniors and youth.
Please email your expression of interest and application by Friday, May 15, 2020 to Roch Ripley, Coquitlam Foundation Board Chair, EMAIL CHAIR.
In view of the social distancing measures the community is following, all interviews will be conducted via telephone or videoconference.
Staff:
Lisa Landry, Executive Director
Tricia Kobayashi, Administrative Assistant
​Angela Chong, Bookkeeper
Board of Directors:
Honorary Chairperson
Peter Legge
Executive:
Roch Ripley – Chair
John Wolff  – Vice Chair
Carol Cahoon – Treasurer
Hazel Joomratty – Secretary
Statutory Appointees:
Vacant – Trish Mandewo, Director representing the City of Coquitlam
Andrea Jabour – Director representing the Tri-Cities Chamber of Commerce
Carol Cahoon – Director representing School District #43 (Coquitlam)
Members at large:
Linda Meneghello – Director
Iris Sun – Director
Colleen Talbot – Director