Wednesday, August 4, 2010
COQUITLAM – Two girls and one daddy head enthusiastically up the trail as they help Alex train for the first annual Coquitlam Crunch Challenge. Coquitlam resident Alexander Bell is joined by family and friends as he trains for the first annual fundraiser for Diversity.Bell is teaming up with the Coquitlam Foundation to raise awareness and funds for initiatives that embrace diversity.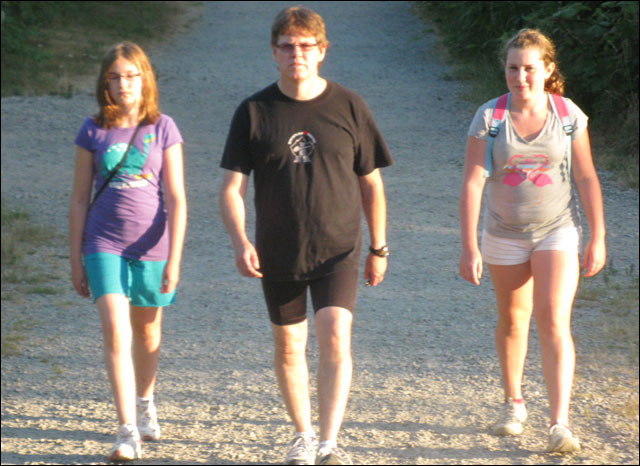 On August 29, 2010 starting at 6:00am, Coquitlam resident Alexander Bell, will climb the popular hiking trail, the Coquitlam Crunch, as many times as he can in one day.
Flanked by two enthusiastic twelve-year-olds, his daughter and a neighbor, Bell says, "This year, it will be just me with the support of friends and neighbors. I would like to get some sponsors and raise a couple of hundred dollars. Next year, with more time and organizing, we can involve more people and raise a couple of thousand dollars. My vision for the future is to have people representing every diversity group to join me in 'the Diversity Crunch'. Our aim is to raise enough money to have a fund with the Coquitlam Foundation that could support diversity initiatives in Coquitlam."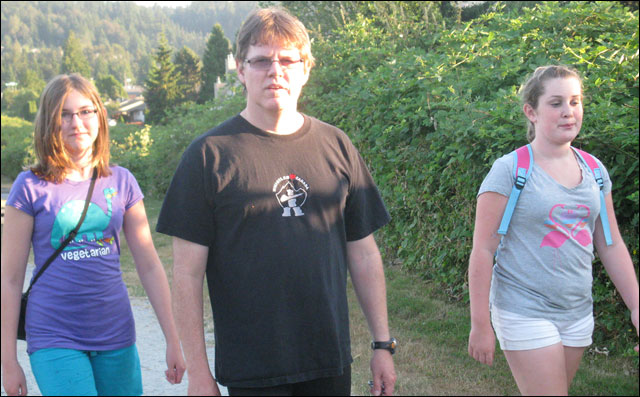 Bell is the Safe Harbour Coordinator for the Tri-Cities; a diversity awareness program for businesses and community agencies. "I wanted to do something that would support diversity awareness activities and raise awareness of the Safe Harbour Program. I also wanted to do something that would bring attention to the Coquitlam Foundation, a great resource we have in Coquitlam with even more potential as people learn about what it can do for our community" says Bell.
Bell is seeking pledges for however many times he can go up and down the Coquitlam Crunch in one day. Five times would be a minimum and ten times would probably be the maximum. Ten times would be over 40 kms with a total elevation gain of about 2800 meters or 9000 feet.
The Safe Harbour program delivers "Respect for All" workshops to businesses and agencies. The program promotes equitable treatment for all, creating an immediate safe place, and supports employees and worksites to actively implement these commitments.
Toward the vision of a more welcoming community, the Tri-Cities now has its own Safe Harbour program and Bell welcomes the opportunity to bring more businesses on board. There are now over 700 Safe Harbour certified locations signed on across BC: including RONA, the Royal Bank, ScotiaBank, TD Canada Trust, Canada Safeway Ltd., the Medicine Shoppe, London Drugs, the YMCA, the Canadian Red Cross, the City of Burnaby, Royal Roads University, the South Vancouver Business Improvement Association, and members of the RCMP and Chambers of Commerce. The project is made possible through funding from the Government of Canada and the Province of British Columbia. For more information on the Safe Harbour project visit www.safeharbour.ca.
For more information on the Coquitlam Foundation: 
Contact Laurel Lawson, Executive Director,
llawson@coquitlamfoundation.com or call 778-995-7152
For more information on the Tri-Cities Safe Harbour program: 
Contact Tri-Cities co-ordinator, Alexander Bell @ 778-886-9273 or
Lindsay Marsh, Safe Harbour Program Coordinator with AMSSA at toll-free: 1-888-355-5560 or:
nationalsafeharbour@amssa.org / website: www.safeharbour.ca