Description of donor: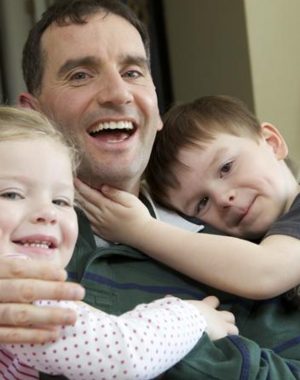 On May 18th, 2006 Michael was driving to Kelowna with his former spouse and seven-month-old twins, to attend a work function and stay with friends. Catastrophe struck while on the Coquilhalla highway — Michael lost control of the van and it rolled at least one and a half times.
Michael was unresponsive, with evidence that the airbags had deployed and he was restrained by his seatbelt.  He was in a comatose state.
He was transported by air to Royal Inlands Hospital in Kamloops where he was assessed by a Neurosurgeon. Later, he was transferred to Royal Columbian Hospital to be closer to his family where he remained comatose.
Michael's injuries were nearly fatal and despite comprehensive treatment at two hospitals, he remained in a coma for six and a half months. Doctors told his family that his chances of recovery were remote. His wife Ann was devastated, facing the challenge of raising their two babies without a father. Recommendations were made to his family to look for a long-term care facility to look after him for the rest of his life.
Following research undertaken by Michal's family on the benefits of HBOT (Hyperbaric Oxygen Therapy), in a closed in chamber, a family decision was made to allow Michael to undertake this therapy. Michael's mother accompanied him in the chamber on a daily basis in a private clinic in Richmond. After the 3rd session in the chamber, Michael began showing the first sign of recovery.
Although Michael was in a power wheelchair, unable to stand on his own, the family heard about the Lokomat Machine, the world's leading robotic medical device that provides highly repetitive and the most physiological gait training. He began weekly sessions under Pauline Martin's guidance at NeuroMotion in Vancouver. Progress was noticed from week to week. Michael went from a power wheelchair to a manual wheelchair, and is now walking with a single cane, and soon without a cane.
Today Michael serves as an inspiration and catalyst for traumatic brain injury survivors everywhere. He currently resides in a group home not too far from his family and visits with them weekly. His long term goal is to be an able and active participant in his family's life.
In 2007 Michael learned about Rick Hansen's Wheel s in Motion events to raise funds for research and to improve the quality of life for people with spinal cord injuries. Michael was inspired by Rick Hansen and wanted to give back to Society and be part of the event. In the midst of his rehabilitation, he canvassed his network of friends, family members, Molson Coors co-workers, and raised over $22,000. His team not only won the award for the top fundraiser in Canada for Wheels in Motion, they also set a fundraising record for the entire six year history of the program.
Michael is the winner of the 2012 Courage to Come Back Award for Physical Rehabilitation and is also the author of The Courage to Come Back: Triumph over TBI – A Story of Hope.