Description of donor: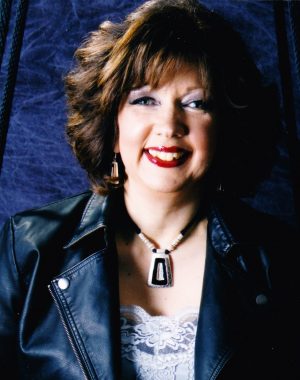 Sue was born in 1958 in New Westminster to Walter and Margaret "Peggy" Price and lived her whole life in the TriCity area. Although she was named after her Mom we all knew her as Sue.
She apparently was an amazing seamstress and in her younger years worked at Gold's Fabrics. She enjoyed baking and cooking and was known for her elaborate dinners for family members. Sue worked for RBC in various positions from May,1979 until she passed in January of 2018.
Sue always looked totally put together. Many of her friends have remarked on how perfect she always looked. Never a hair out of place and lots of jewellery to complete her outfits. She loved powerful cars and almost always had a Hemi under the hood of whatever vehicle she was driving. However, what Sue loved most was animals. In particular cats. She was the ultimate cat lady. Although she had owned dogs, she always had a cat. At one time she had had four older cats but shortly after her mom passed, she lost the cats one after another which was devasting to her. She was very passionate about doing something for geriatric cats and had just started to get interested in helping out at an animal rescue. Her last cats Sydni & Charli came from a rescue and her world revolved around them. Her end goal was to be able to do something for cats when she retired, in particular older cats.
Unfortunately, that dream did not come to fruition but it is her love for cats on which this fund is focused.