Description of donor: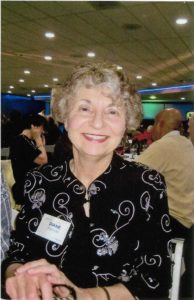 This fund is established by Diane Stiglish, the daughter of Jack and Helen, to honour her parents for all their hard work over the years. Diane was born in New Westminster in 1948 at the Royal Columbain hospital.  She worked at TELUS for 33 years before retiring in 2003.
Diane has lived in Coquitlam for 41 years. She aims to address the issues she has seen with seniors, in particular those who are isolated and live alone, as well as to support women who need a helping hand in furthering their education.
Jack and Helen Stiglish lived in Burnaby from 1943 to 1969 on the mushroom farm. They then moved to their dream house, which they built in Coquitlam BC, and lived there from 1969 to their passing in 1994 and 2009.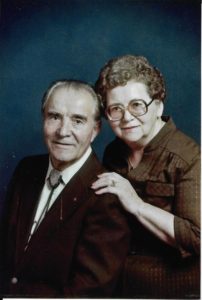 Helen Mary Stiglish, maiden name Pietraszko (which became Pietrosko), was born in Coleman Alberta on March 30, 1920 and died July 3, 2009 in Burnaby. Helen grew up in Athalmer-Invermere, BC., with her three brothers Joe, Walter, and Frank, and her sister Violet.
Fabian Jack Stiglish was born Feb 21, 1916 and died in New Westminster on Oct 15, 1994. Jack grew up on a farm in Leask, Saskatchewan, with his five brothers Frank, John, Sylvester, Steve, and Joe, and his two sisters Barbara and Muriel.
Jack changed his name from Stiglich to Stiglish to make it easier to pronounce and spell. Everyone knew Jack by the name Jack Stiglish or F. J. Stiglish.
Jack left the farm in Leask in 1938 and moved to BC where he met Helen in Invermere. In 1940, Helen and her parents moved to a neighborhood in the Pattullo Bridge area in Surrey. Jack also moved to Surrey and became a fisherman
with his own boat and worked in a mill as well.
Helen and Jack were married Dec 5, 1942 in BC, and took a train to Leask Saskatchewan to spend their one month honeymoon on the family farm. Every bride's dream honeymoon!
Jack and Helen had a son Allan, born in 1946. Allan Stiglish changed his name back to Stiglich and moved to Langley in 1970 where he built his own mushroom farm and has lived there ever since.
In 1943, Jack and Helen brought a mushroom farm at 1050 Keswick Ave and Lougheed Highway (later changed to 3782 Keswick) in Burnaby. This had been the first mushroom farm in BC started by W.T Money around 1928.
When they bought the mushroom farm, there was no Lougheed Highway; eventually there was a 2-lane highway and later a 4-lane highway which the children would cross every day to go to school. The mushroom farm consisted of 4 acres of land of which about 1.4 acres were used to grow mushrooms. This was until 1969, at which point they sold the business to a townhouse development. It was Helen's idea to sell the mushrooms by the pound and mushroom manure by the sack to people who came to the farm. Meanwhile, Jack would deliver mushroom manure to people's homes. They belonged to the Fraser Valley Growers Co-op Association, where they sold their mushrooms under the label Money's Mushrooms.
Jack and Helen were entrepreneurs, especially Jack – he tried his hand at raising chinchilla for their pelts and Helen had visions of wearing a chinchilla stole! They also owned a brick business and The 4 Acre Trailer Court at 675 Lougheed Highway in Coquitlam. They owned the trailer court from the 1950's until 1979, when they sold it to Walter and Dennis Hohn. Jack and Helen were very strict about keeping the trailer court neat and tidy. He also had overnight trailer spaces and camping spaces which were quite popular with the tourists and provided space for stored trailers; there were 4 duplex suites and a laundry room.
When they bought the trailer court, Edgar Ave (the street right behind) did not go through all the way, so they bought the three lots behind the trailer court to ensure no one could complain about it. On one of the lots, 703 Edgar Ave, they built their dream home in 1969 which was just lovely with a view of the Fraser River. This was Helen's only other home in all the time she was married. The house was built so that Helen could sit in her living room and watch the people go in and out of the trailer court and thus keep an eye on things.
One year, in the early 1960's, there was a big Jehovah's Witness convention in Vancouver. The trailer court was overflowing with campers and tenters! Jack decided to redirect the overflow to the mushroom farm at the corner of Lougheed and Keswick just over a mile down the road. Part of the 4 acres was grass, so the tents and campers set up here. There was only one toilet and sink in the bathroom over the garage, so Jack may have put in portable toilets to help. This campground only lasted a few days as some of the neighbors complained to Burnaby City Hall. Because Jack did not have a permit, the city shut the campground down.
Helen and Jack were a real team. Both worked very hard on the mushroom farm and in the trailer court. Helen would keep the books and would always be ready to give her opinion. Helen was also an accomplished homemaker; her passions were crafting, gardening, oil painting and trying to create new recipes for all those mushrooms!
There was time for fun too. For many years, they were members of the Vancouver Heights Square Dance Club in Burnaby. When they retired, they began years of traveling and wintering in Arizona and continued to square dance down there as well. Summers were spent at their place in Whatcom Meadows, Washington State.
Jack was very community-minded. He was an active member of the British Columbia Motels, Resorts & Trailer Parks Association for many years. He was also one of the founding members of the Coquitlam Rotary in 1967, which to this day meets every Wednesday at 11:30 AM at the Vancouver Golf Course.