Description of donor: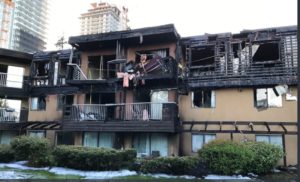 Purpose of Fund:
At least 16 units were impacted and 30 residents displaced on April 30 when a fire broke out in an apartment building at Foster Avenue and North Road in Coquitlam. These Coquitlam residents have lost everything and are now looking to rebuild what they have lost.
The Coquitlam Foundation is accepting donations and while we cannot accept all kinds of donations we can accept cheques or donations via credit card through the form below.
All funds will go to those impacted and who request assistance. Should there be any funds left over after these requests are satisfied, any remaining funds will be added to the Coquitlam Foundation's Community Fund, which is designed to help non-profit organizations within Coquitlam.
Eligibility:
Individuals and families who lived in the apartment impacted by the fire at Foster Avenue and North Road on April 30, 2019. 
How to apply for this fund:
The Foundation will be working with the City of Coquitlam to determine individuals and families who require assistance and through the help of the Coquitlam Firefighters Charitable Society the Foundation will work to provide that assistance. 
How to donate to the fund:
You can donate in two ways. First, a cheque made payable to the Coquitlam Foundation can be sent to:
P.O. Box 64710, Sunwood Square, Coquitlam, BC  V3B 0H1
Include a note that the donation is for the "Foster Avenue Fire Fund". Donations sent this way of $25 or more will receive a tax receipt.
The second way you can donate is through our online donation system, which is provided by Canada Helps, a non-profit organization. Through a fee of 3.5% to cover the cost of the credit card charge Canada Helps will issue you a tax receipt directly for your donations. We thank them for their partnership.