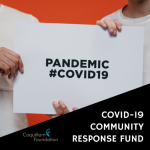 Tri-Cities COVID-19 Community Response
Fund
The Tri-Cities Community Foundations are setting up COVID-19 Response Funds to address community need.
In partnership with the Port Moody Foundation and the Port Coquitlam Community Foundation we created a Tri-Cities Community Response Fund to help these not-for-profit organizations so they, in turn, can help the people in our community who need food, family or individual supports or other essentials in these challenging times.
All proceeds will stay within the Tri-Cities to help local residents. Please give if you can.